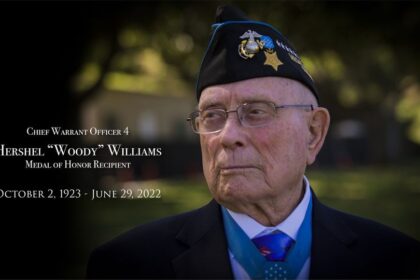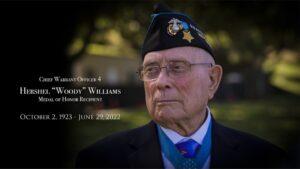 "On behalf of all Marines, Sgt. Maj. Black and I are heartbroken to learn of Woody's passing. From his actions on Iwo Jima to his lifelong service to our Gold Star Families, Woody has left an indelible mark on the legacy of our Corps. As the last of America's "Greatest Generation" to receive the Medal of Honor, we will forever carry with us the memory of his selfless dedication to those who made the ultimate sacrifice to our great Nation. The Marine Corps is fortunate to have many heroes, but there is only one Woody Williams. Semper Fidelis, Marine." – Gen. David H. Berger, Commandant of the Marine Corps.
Marine Corps retired CWO4 Hershel Woodrow "Woody" Williams, the last living World War II Medal of Honor recipient, passed away early this morning, June 29, 2022. Woody was surrounded by his family at the VA Medical Center in Huntington, West Virginia.
Born on October 2, 1923, in Quiet Dell, WV, Woody enlisted in the Marine Corps Reserve May 26, 1943, and advanced to the rank of Chief Warrant Officer 4 before his retirement in 1969 after 17 years of service. During WWII, Woody served in New Caledonia, Guadalcanal, and Guam before landing in Iwo Jima where his actions earned him the Medal of Honor.
Today, the Marine Corps pauses to honor Woody's legacy and contributions to the Corps and fellow Marines.