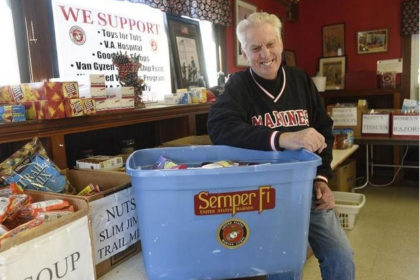 The organization we are highlighting today is the LCpl. John J. Van Gyzen Det. 1285 Marine Corps League. Herald News Intern Caitlin Westgate speaks with Commandant Bruce Aldrich about the Marine Corps League of Somerset.
Q: When was the Marine Corps League in Somerset started?
A: "It was started in 2007."
Q: What was the motivation behind starting the organization?
A: "Well, I was in the Marines. I got out, and I really didn't know any other Marines around other than a couple of people I had run into. I was curious about an organization where Marines could get together for camaraderie and talk about old times. I looked into it, and I found out that there was a Marine Corps League, but there was no detachment in my area. So, actually, the commandant of the Marine Corps League for Massachusetts recommended that if I could get 20 Marines together, we could start our own detachment. So, that's what I did … Once I started putting the word out, it was very easy to find 20 Marines. I had more than that, more than enough to get a local detachment started."
Q: Did community members take part in helping to develop your organization?
A: "Once we started having our first organization meetings, different guys stepped up to be the paymaster and adjutant and judge advocate, and they just stepped forward and said, you know, we have to start someplace, so I'll volunteer to do this, and I'll volunteer to do that until we get established. Then we can have regular elections every year. It was no problem getting people to help out."
Q: What goals have you accomplished thus far?
A: "As far as the Marine Corps League, we've accomplished an awful lot. Since we started, we did Toys for Tots. We do Toys for Tots every year. I was in charge of Bristol County for a lot of years, but I finally gave it up. It was just getting too much for me. But when we were doing all of Bristol County, we were doing anywhere from 25,000 to 30,000 toys a year for Bristol County needy children.
We send packages to troops in harm's way. We've done over 3,000 packages that were shipped over there to the troops. We go to the VA Hospital in Brockton. In the wintertime, we do pizza parties. In the summertime, we go up there, do a hamburger/hot dog cookout.
We provide scholarships to four schools in the area: Dighton-Rehoboth, Swansea, Somerset and Fall River. We provide a $500 scholarship to a child of a veteran. They have to be related to a veteran. It could be a grandfather, grandmother, aunt, uncle, but they have to be related to a veteran.
We give out donations to Fisher House, Homes for Troops, and Marines Helping Marines. Every year we give out $500 in donations to those three organizations.
We do funerals for marines, and we do wakes. It doesn't matter if they're a member of the Marine Corps League. If they're a Marine, we go to the cemetery and do the rifle volley, and we also have white doves that we release to make it a little special for the family. We're very active.
The Marine Corps League maintains the Iwo Jima monument in Fall River. We started that four years ago. They built it … The kids had trashed it and vandalized it, so we got involved four years ago. We've got it back into great shape. The Marine Corps does maintenance down there, and twice a year we have the Memorial Day service there and Veterans Day service there that the Marine Corps League puts on."
Q: Tell us about your March 5 Blood Drive?
A: "This is for a young man whose dream has always been to be an officer in the Marine Corps. What happened was, 9/11, when he was in school, his father was stationed in Hawaii, and the Marines were guarding his school. It made such an impression on him that he told his mother and father he wanted to become a marine when he was old enough. Well, he found out now as he started his sophomore year at Norwich University in Vermont that he had brain cancer. We brought him down to our headquarters, and we made him an honorary member of the Marine Corps League. We told the family we would do whatever we could to help them out in any way, so we decided to sponsor that blood drive on March 5 to help him out. He has to replenish the blood that they used when he was operated on. We're doing all we can to make that a successful blood drive. They tried to do it at other places, and people wanted to charge him $200-$250 for the rental of the hall to have a blood drive for him. We told him there's no way you're going to pay. We'll give you our hall, and we'll do whatever we can to make sure we get it done." The blood drive is being held Saturday, March 5 from 9:30 a.m. to 2:30 p.m. at the Marine Corps League headquarters, 265 High St., off School Street in the northern part of town.
Q: Does social media aid your organization?
A: "We are on Facebook. We're trying to set up a website. We had a website, and the national website went down. They're doing it over. So, while they do their's over, we don't have one. We're looking into setting up our own website locally right here in Somerset, so we don't have to depend on the national. Basically what we were doing was piggybacking on their website, but it doesn't give us enough (space) where we could put all the stuff we want to on there. We're looking into doing our own, so we can get more information out there."
Q: Do you participate in many fundraising events?
A: "Yeah, every Memorial Day we do a fundraiser at Stop & Shop … We make a lot of the money to send the packages over to the troops because it is very expensive. We normally spend anywhere from $4,000-$7,000 sending stuff over there every year. We don't get a break on sending packages. We still have to pay an awful lot of money. The post office doesn't give us any kind of a break.
So many people know about us now. We get a lot of people who will make a donation, $100 or $500. They'll send it to us. Even when we're in the post office, we'll be mailing packages and people will say, 'Are you sending that to the troops?' … and they'll come up and give you $10, $20, $40 while we're mailing the packages out. People realize what we do, and they're always willing to help us out.
The town has been a great help to us, too because the Hood Library here in town, it was vacant for about four or five years. We were looking for a place to have our meetings. I went to the trustees, and they voted to allow us to use the building. We have the use of that building. All we have to do is pay for the oil and the … electricity. We can have that building all the time. That's a big help because these other organizations, VFW, AMVETS, American Legion, they can rent their halls out to make money to help pay for the repairs … We can't rent the hall out. Any major things, the trustees have a fund, they pay for the major renovations. We do as much as we can on our own, the little things that we can do. Me being a bricklayer and others being carpenters and electricians, we do whatever we can, so we don't have to ask the town for help. The building was going bad because there was nobody in it. You can't leave a building sitting around with nothing going on because it deteriorates very fast."
Q: What goals do you have for the growth and development of the organization?
A: "Well, we basically are still trying to get more (members). We were up to 115 members. Then they started another detachment over in New Bedford. They drew the people that were coming from New Bedford and Dartmouth. They went over to New Bedford because they didn't have to travel. I don't blame them. They don't want to come all the way to Somerset when they can just go to a meeting there. We lost a few members that way. Last year, we had a very bad year. We had almost 10 members pass away last year because they're up in their late 70s, early 80s. We lost quite a few members. We're down to like 90 members now. They're all Marine veterans. We don't take in the air force or army like some of these other branches. You have to be a Marine veteran to become a member of the organization. That cuts it down, too as far as how many members we can get. There's only so many Marines in the area.
Our goal is just to keep doing what we're doing: supporting the troops, supporting the veterans at the VA Hospital, doing what we can for them, and supporting our own members when they pass away, going to their wakes and showing our respect, going to the funerals and helping their families out with the funerals."
Q: What would be the best way for people to contact you with questions or donations?
A: "They can go to Bruce Aldrich. My email is laaldrich@nullaol.com. They can contact me on my home phone number, 508-674-5425."
The Herald News Community Advisory Board is helping us identify the community organizations to be highlighted. If you would like to nominate a community organization to be highlighted in this feature, please email Opinion Page Editor Aaron Frechette at afrechette@nullheraldnews.com, contact him on Facebook at HN Aaron Frechette or Twitter, @AaronFrechette or send a note to Aaron Frechette, The Herald News, 207 Pocasset Street, Fall River MA 02722.