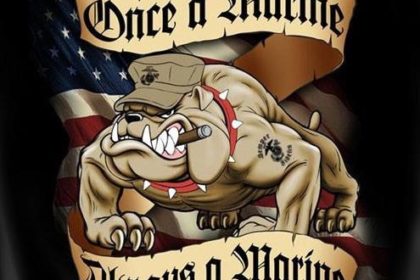 
Todays do-nuts provided by Quality Auto.

Thank you, John Carvalho, for the coffee donation.

Bruce would like to thank Andy for all his help in selling the bus and
to the guys that helped pick up the new bus from Braintree. They
are Joe Estrella, Bill Murphy, Brian Brown and John Fay. Semper Fi
to all! Job well done. You also Commandant.

Went to the VA Hospital last Saturday and the patients enjoyed it
very much. Some minor problems but we improvised, adapted and
overcame.
Motion made, seconded and passed to accept all officer`s reports.
New business;

New bus listed for $10,000.00 and ended up costing us $7,500.00.
Minus what we got for the old bus and donations total cost ended
up it cost $5,500.00.

The old bus was sold for $1,500.00.

Extremely difficult to register and insure a vehicle in MA.

Jimmy please take care of getting members for the honor guard
and rifle squad for our Iwo Jima ceremony on Feruary 19th

Had recruiting posters made up. Would appreciate members
passing them around to places frequented by Marines.

Spoke to Jeff Costa in regards to having a barbeque. I was given
dates of June 10/11 or June 24/25 if we want to try again. Tickets
will remain $30.00. The decision was to have it on Saturday June
10
th
.

Spoke to Richie Rapoza about having another Clambake this year.
Saturday September 16 was decided on.

Thank you to our sister Jennifer Vincent. She applied to the District
Attorney`s office for monies and it was approved. Semper Fi Jen.
Sickbay report;
​

All is well.
For the good;

We will be holding a ritual for Billy Arruda on February 25. Will get
back to you with more details via e-mail.

Bruce said he will have sit down with the city administrator to
discuss it.

Motion made, seconded and passed to allow Bruce to purchase
two eight foot folding tables
A moment of silence for our departed members.
Next meeting will be Saturday, February 4 at 10:00 hours.
Motion made, seconded and passed to adjourn the meeting 10:55
hours.
Respectfully submitted
William F. Niewola Jr.
Detachment Adjutant
NEXT MEETING WILL BE SATURDAY MORNING
MARCH 4 @ 10:00 hours.
SEMPER FI!!!!!!!
Let us not forget our fallen brothers and sisters. Amen.