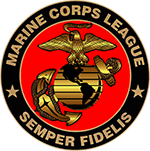 What about some  "L/CPL JOHN J. VAN GYZEN IV DETACHMENT #1285 – 100TH ANNIVERSARY MARINE CORPS LEAGUE – 1923-2023 – USMC 248TH BIRTHDAY" California wine with your Detachment Patch as the label and the Eagle/Globe/Anchor as the back label, or Sponsor's Name/Logo as the back label.    
Or with the label of your choice.  Fundraisers, 248th Birthday, Toys-For-Tots, Veterans Day, Detachment Anniversary, Meetings, Birthdays, Raffle Items, Auction/Silent Auction Items, Golf Prizes, Installation of Officers, Awards, etc. 21 Day Delivery.
100TH ANNIVERSARY SPECIAL: 1 Case $149.00 for a case of 12 + 1 extra bottle with the Purple Heart or Unit patch of choice.  Active Duty Patch, Division, Battalion Patch, Purple Heart, etc.  Offer expires March 15, 2023.
2 Cases $139.00 each plus 1 Magnum  and 1 Bottle with the  Purple Heart.- Raffle/Auction the Magnum and pay for half the wine.  (Magnum 1.5L Big Double Size Bottle in a Wooden Box)3 Cases $135.00 each plus 1 Magnum and 2 bottles with the Military or 1st Responder patch of your choice or Purple Heart.  We have all the county crests of Ireland.
6 Cases $129.00ea. – 7th Case Free.
Great for your Reunion, Fundraiser, Dinner, Events, Annual Banquet, Birthdays,  Friends, Yourself, Past and Future Favors, etc.  Plus FedEx shipping.  Magnum only $54.00.   Case of 12 California – First Press – Cold Press -Extra Virgin – Olive Oil – $175.00 per case with your label.  As a fundraiser you can Raffle/Auction off a case of wine with a photo of the Banquet table and Friends as the label.  I think you would bring in $225+ your cost $135.00 plus shipping.