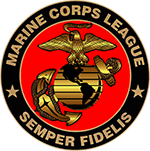 A quart of milk was 15 cents and sirloin steak could be bought for 61 cents a pound in 1919.
  1 July 1920:
Major General John A. Lejeune became the 13th Commandant of the Marine Corps.
  2 July 1891:
Marines began protecting seal herds against poachers in the Bering Sea.
  3 July 1864:
Marines participated in a skirmish near White Point, South Carolina, during the Civil War.
  3 July 1899:
Battle of Santiago.
  3 July 1918:
13th Regiment organized under LtCol Smedley D. Butler at Marine Base Quantico for duty in France.
  4 July:
Independence Day.
  4 July 1800:
The Marine Band played at Tun Tavern, Philadelphia, in their first public appearance.
  4 July 1834:
President Andrew Jackson ordered green and buff as the Corps' uniform colors.
  5 July 1943:
The 1st Raider Regiment landed against the Japanese on New Georgia Island.
  5 July 1966:
1st full day of operation "MACON", Vietnam (4 July – 28 October).
  6 July 1905:
Marines escorted the body of John Paul Jones from France to Annapolis.
  7 July 1941:
The 1st Marine Aircraft Wing was commissioned at Quantico.

(In 1961 I was assigned to MAG-16 1stMAW AirFMFPAC and was based at MCAF Futema, Okinawa. Futema was later renamed Futenma.)

  7 July 1966:
Largest multi-Battalion operation of Vietnamese war to date – "Hastings".
  8 July 1930:
Major General Wendell C. Neville, 14th Commandant of the Marine Corps died in office.
  8 July 1953:
7th Marines, 1st MarDiv "retook" outpost EAST BERLIN, Korea.
  9 July 1846:
Marines and Sailors occupied Sonoma, California, after proclaiming California part of the United States during the Mexican War.
  9 July 1900:
Marines helped in the capture of Tientsin Arsenal.
  9 July 1943:
Allies Landed in Sicily.
10 July 1919:
A submarine chaser was turned over to the Corps with the first all-Marine crew.
10 July 1941:
The 2nd Marine Aircraft Wing as commissioned in San Diego.
10 July 1942:
MCAS El Centro, California activated.
11 July 1798:
The U. S. Marine Corps was re-established by an Act of Congress, succeeding the Continental Marines.
12 July 1798:
Major William W. Burrows was appointed the 2nd Commandant of the Marine Corps by President John Adams.
13 July 1954:
The 3dMarDiv was placed on 48-hour alert in preparation to move in support of the French in Indochina. The alert was later cancelled.
14 July 1853:
Commodore Matthew C. Perry, escorted by Marines and Sailors, landed at Uraga, Japan. Marine Major Jacob Zeilin was the second man to go ashore.
14 July 1945:
U. S. began the first surface fleet bombardment of Japan.
15 July 1958:
BLT 2/2 landed at Khalde Beach, Beirut, Lebanon, in operation "Blue Bat".
16 July 1861:
Major J. G. Reynolds commanded 350 Marines in the first Battle of Bull Run in Virginia.
16 July 1942:
Marine Barracks, Auckland, N.Z., established.
17 July 1990:
200 members of the Marine Barracks, Subic Bay, Philippines, helped rescue survivors in Cabanatuan after the island was hit by an earthquake measuring 7.7 on the Richter scale. More than 300 civilians were killed.
18 July 1779:
Continental Marines attacked British forces in Maine.
18 July 1918:
The 4th Marine Brigade sustained 1,972 casualties in an attack at Soissons, France.
19 July 1779:
300 Continental Marines attacked the British at Fort George, Penobscot Bay.
20 July 1942:
23rd Marines activated at New River.
20 July 1950:
An organized Marine Corps Reserve mobilized for duty in Korea.
21 July 1861:
First Battle of Bull Run.
21 July 1944:
The 3dMarDiv, 1st Provisional Marine Brigade and Marine Aircraft Group 21 landed to recapture Guam (secured 10 August).
22 July 1823:
Marines attack Pirates near Cape Cruz, Cuba.
22 July 1919:
Two companies of Quantico Marines helped civil authorities restore order after race riots in Washington, DC.
23 July 1944:
Elements of the 3dMarDiv completed the occupation of Cabras Island, Tinian, Marianas.
24 July 1944:
Artillery, air and naval bombardments softened Tinian for the 4thMarDiv landing (secured 10 August).
25 July 1777:
Congress authorized a $4 weekly subsistence for Marine officers.
26 July 1779:
Battle of Banks Island.
26 July 1861:
An Act of Congress increased the Marine Corps' authorized strength to 93 officers and 3,074 enlisted men.
27 July 1898:
Marines from the USS Dixie were the first to raise the American flag over Puerto Rico.
27 July 1953:
Korean War ended.
28 July 1918:
BGen John A. Lejeune assumed command of the 2d U.S. Army Division in France.
28 July 1942:
Japanese began overland drive on Port Moresby from base at Buna-Sanananda.
29 July 1919:
A detachment of Marines from the USS New Orleans prepared to land at Tyutuke Bay (near Vladivostok), Russia, to protect American interests during a period of political disturbances.
29 July 1946:
Elements of 11 Marines clash with Chinese communists at Anping, China.
30 July 1918:
The 1st Marine Aviation Force arrived in Brest, France.
30 July 1944:
U. S. Army's New Guinea drive ended on Sansapor Point.
30 July 1945:
Japan refused Potsdam ultimatum.
31 July 1813:
Marines landed at York, Lake Ontario, with soldiers to burn stores and barracks of the British.
31 July 1944:
Allies broke out of Normandy.