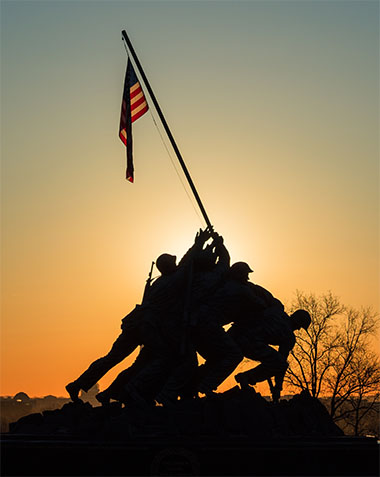 L/Cpl John J. VanGyzen Detachment #1285
Marine Corps League Meeting Minutes
March 9, 2019
The meeting of the John J. VanGyzen Detachment was called to order by Commandant Bruce Aldrich at 10:00 hours. 25 members were present. 
The colors were posted, the pledge of allegiance and opening prayer.
Bruce introduced a new members Gino Jackson.
Motion made, seconded and passed to suspend regular order of business for election of officers. One vote was cast for entire slate of elected officers. Motion made, seconded and passed to return to regular order of business.
Elected officers for 2019 are,
Commandant, Bruce Aldrich. Accepted nomination.
Senior Vice Commandant, Brian Brown. Accepted nomination.
Junior Vice Commandant, Frank Foster. Accepted nomination.
Paymaster, William Murphy. Accepted nomination.
Judge Advocate, Manual Menezes. Accepted nomination.
Appointed officers, Adjutant, William Niewola, Sgt. at Arms Charles Metzger, Webmaster Jeff Waite, Chaplain, John Rebello and Quartermaster, Nolan LePage. 
Roll call of officers:
Present – Commandant, Jr. Vice Commandant, Adjutant, Judge Advocate, Sgt. at Arms, Paymaster, Chaplain and Quartermaster.
Absent – Sr. Vice Commandant and Webmaster.
Motion made, seconded and passed to suspend regular order of business for election of officers for 2019. 
Motion made, seconded and passed to accept the February minutes.
Correspondence:
Thank you from NSOCC-A ALP SOAC in Afghanistan for the packages.

 
.
Motion made, seconded and passed to accept correspondence as   read.
    Officers report:
    Sr. Vice Commandant;
    Jr. Vice Commandant;
Frank thanked all who have used the reading room and that we now have a radio that plays only Marine Corps music.
We have added 5 new members this year.
There is a card box on the back table. Take the time to write a short note on one thanking our troops in harm's way showing that we care. They will be put in the packages we send to them.

 

Our library is constantly expanding. Feel free to take use of it.
  Judge Advocate:
A month ago Manny attended a reunion of his basic school class in New Orleans. One highlight was a visit to the National WW2 Museum which was outstanding. There is a one hour movie narrated by Tom Hanks of the history of ww2. When it showed a German Tank rumbling across the desert the seats vibrated. Another highlight was the meeting of an old classmate a Republic of Korea Lt. from 54 years ago.
Webmasters report:
      Commandants report:
Today`s donuts were donated by George Donnelly. Thank you, Mr. Donnelly, Semper Fi !!!
Pizza party at the Brockton VA went very well and was much appreciated by the patients. Many Semper Fi`s and thank you.
On February, 19 we had a small ceremony at the Iwo Jima Monument in honor of the of Iwo Jima Day. 25 members participated.
Many repairs were made on the bus by EASE Care Ambulance Service in Dartmouth MA. They repaired the handicap ramp, lights a strap for the driver side door and a latch on the back door. All these repairs were donated. A thank you letter will be sent.

   

We will be putting packages together next week. An e-mail will be sent with date and time.
Please bring in pictures of yourselves to place on the board.
We will be receiving a $1,500.00 check from the Somerset Insurance Underwriters to help with the cost of packages.
Quartermaster;
Motion made, seconded and passed to accept officer`s reports.
    New business;
There are 4 tickets available for a corned beef and cabbage dinner on Sunday, March 10, 2019 at the AMVETS Post 72 at 69 Brayton Ave. Somerset. Tickets are paid for. If anyone is interested see Bruce after the meeting.
Broughan Motors in Fall River will be doing some body work on the bus next week thanks to Jimmy.
They will be imploding the cooling towers in Somerset on April 27 and will be selling raffle tickets for $20 apiece for the chance to push the button. All proceeds will be donated to the Vietnam Building Committee. Bruce has tickets.
February 2020 is quite away off but the 75th anniversary of the battle for Iwo Jima will be upon us before you know it. We should be thinking about having a ceremony to commemorate the special significance of the day.

 
    Sickbay report;
Elaine`s hand is healing but nerve damage was caused by the accident and she need have surgery done to her hand.
Bill Correiro called to say thank you for the card. He has to go back to the hospital for a couple of days to have some more work done.
Joe Estrella is home and feeling better but still is in no condition to accept visitors now. Will be going back to the hospital for a checkup.
Norm Lavallee came home for a couple of days then went back to the rest home.
Richard Camara is back and forth between home and the hospital. Last Monday they had to call rescue twice in one day.
Bruce Carrollton is doing okay but nothing to cheer about.
   For the good;
An e-mail was sent out by the MA Commandant about an officer who was in trouble but gave no information as to what kind of trouble. Bruce will be attending a meeting and will try to get some info.
Frank said Dean Shaeffer will try to attend the May meeting if his health allows.
Motion made, seconded and passed to adjourn the meeting 10:55 hours.        
                                                               Respectfully submitted 
                                                               William F. Niewola Jr.     
                                                                Detachment Adjutant