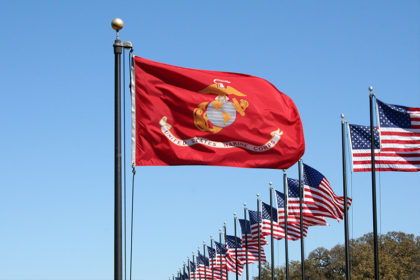 L/Cpl John J. VanGyzen Detachment #1285
Marine Corps League Meeting Minutes
March 3, 2018
The meeting of the John J. VanGyzen Detachment was called to order by Judge Advocate Manual Menezes at 10:00 hours. 18 members were present. 
Motion made, seconded and passed to suspend the regular order of business for the election of officers. 
Motion made, seconded and passed to cast one vote for the entire slate of elected officers.
Commandant- Bruce Aldrich
Sr. Vice Commandant- Brian Brown
Jr. Vice Commandant- Frank Foster
Paymaster- Bill Murphy 
Judge Advocate- Manny Menezes
Motion made, seconded and passed to return to regular business.    
The colors were posted, the pledge of allegiance and opening prayer.
Roll call of officers:
Present – Jr. Vice Commandant, Adjutant, Paymaster, Judge Advocate, Sgt.at Arms, Webmaster, Chaplain and Quartermaster.
Absent – Commandant, Sr. Vice Commandant and Webmaster. 
Motion made, seconded and passed to accept the February minutes.
Correspondence:
Thank you from Arlene Harnett of Project Helping Hands for Kids for the toys.
Thank you card from our brother Emile for the fruit basket. 
Thank you from Lara Dietz founder of Iwo Jima West along with a picture of what the monument will look like.
Motion made, seconded and passed to accept correspondence as read.
Motion made, seconded and passed to accept Paymasters report. 
Officers report:
Jr. Vice Commandant;
Frank is urging members to keep on working to get new members.   
Frank has challenge all members to beat him in getting new members to join the detachment. The winner will get free coffee and donuts for the rest of the year. Yum.
Frank passed out letters to the membership detailing the past year's accomplishments of the detachment. 
We have added more books and dvds to our library. 
Frank will be celebrating the big 88 and plans to be around to101 plus so don`t count on cutting the cake soon.
Commandants report:
Today`s donuts were donated by Arthur Caesar. Thank you.
Myself and sr. Vice Commandant were asked to speak before the Young Marines about the death of their friend and comrade.
11 members from the detachment attended the funeral of our fallen Marine brother.
Bruce will be meeting with the Mayor of Fall river along with the Veterans agent and police chief to discuss security for the Iwo Jima Monument.
The meeting with the Fall River Mayor and police chief reference to monument security was a fruitful one.
We also discussed a $2000.00 stipend to be placed into the Iwo Jima Memorial Fund each year to help with maintenance.
After the meeting Fall River Veteran Agent Ray Hague told Bruce he will inserting $6000.00 into his budget to pay for the cameras and poles.
Had to call Speedy Rooter to clear the pipes outside the building to clear a blockage. Now that we have care of the building and grounds we had to pay $225.00.
We received an invitation to attend the presentation of a proclamation by the Governor of Massachusetts being given to Homes for Troops. They are being honored for building 250 homes for our wounded veterans.
Motion made, seconded and passed to accept officer`s reports.
New business;
A Girl Scout troop from Somerset would like to do cleanup around headquarters. By doing volunteer work they will earn a badge. Bruce would like to have some members present that day to lend assistance if needed. 
Bruce has contacted Senators Warren and Markey and Rep. Kennedy to see if we could get some help with cost of shipping packages to the troops. The average cost of shipping in 2016 has risen from $11.45 to $45.00 per box.
Bruce sent an e-mail a couple of weeks ago about tickets for the "Men Can Cook" fundraiser for the Vietnam Wall project. Tickets are $20.00 and can be purchased at the door or by contacting Senator Mike Roderick`s office at 508-646-0650. It will be on Sunday March 11, 2018 at the Liberal Club.
When the weather gets warmer we will be washing and waxing the van. Will need volunteers. 
An informative discussion by the members in regards to local legions having to close due to poor membership and ways to increase our own membership rolls.
 Sickbay report;
Motion made, seconded and passed to adjourn the meeting 10:50 hours. 
                                                               Respectfully submitted 
                                                               William F. Niewola Jr.     
                                                                Detachment