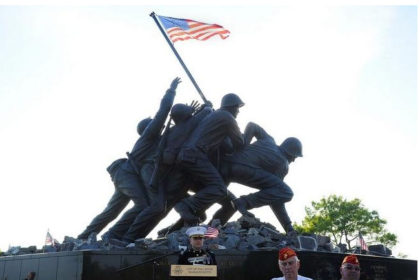 We are pleased to see that The Herald News is being supportive with the upcoming celebration of the arrival of the USS Massachusetts. This is a good opportunity to remember the days before, during and after World War II, touting what Fall River has and is doing to promote this event.
But the Marine Corps League is saddened and disappointed by the fact that public information outlets have not promoted one of the World War II's greatest monuments: the Iwo Jima Memorial located on the waterfront at Veterans Bicentennial Park. This park also is home to other veterans memorials as well.
Over the past three years, Marine Corps league has led the fight and the effort to remove graffiti and repair and improve this icon of World War II, by cleaning it, polishing it, installing lights, benches, etc. This monument is supported by local veterans who have purchased and placed over 1,000 bricks, with the money raised going towards preserving this monument to our military's determination, valor and victory.
We have worked in partnership with the city of Fall River to install signs that provide visitors coming in to our city directions to the Iwo Jima Memorial. This memorial is host to many veterans memorials and veterans related events that are attended by hundreds and hundreds of people every year. But unfortunately the Iwo Jima monument has been overlooked and bypassed by The Herald News and those responsible for promoting and organizing the AHA and battleship memorial celebrations and makes this Marine very sad indeed.
We recognize that time is short and there may not be much opportunities to educate and expound on the Iwo Jima Memorial, but we urge The Herald News and those responsible for the AHA celebrations and the Battleship Massachusetts celebrations to please do whatever can be done from this point forward to encourage visitors to the Iwo Jima Memorial.
This memorial represents the sacrifice of many good men. More than 19,000 Marines were wounded and 6,821 died there. It remains the costliest battle in Marine Corps history one third of all Marines killed during World War II died on Iwo Jima.