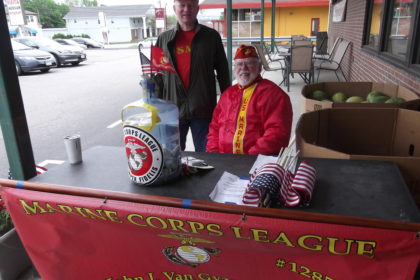 Dear Marine Corps league members.
At our meeting this morning we discussed our fundraiser which we could not do on Memorial day or Fourth of July. Also Stop & Shop will not let us do any fundraisers this year. Our only alternative is to do
Auclair's
market on Labor Day weekend
. We will be doing it three days Friday, September 4 from 9am to 5pm Saturday, September 5 from 9am to 5pm and Sunday, September 6 from 9am to 5pm Please contact me and let me know what shifts you are available for, be advised that Friday and Saturday are basically filled Sunday is wide open
if you haven't paid your dues yet please send it in before September 1 we are down to 25 members who haven't paid, please take care of this as soon as possible.
Semper Fi Bruce