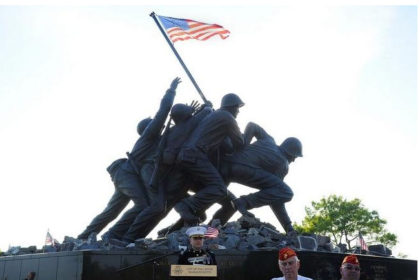 L/Cpl John J. VanGyzen Detachment #1285
Marine Corps League Meeting Minutes
April, 7, 2018
The meeting of the John J. VanGyzen Detachment was called to order by Judge Advocate Manual Menezes at 10:00 hours. 18 members were present. 
Motion made, seconded and passed to suspend the regular order of business for the swearing in of officers by State Commandant Dave Porter. 
The following were sworn in as detachment officers for 2018;
Commandant- Bruce Aldrich
Sr. Vice Commandant- Brian Brown
Jr. Vice Commandant- Frank Foster
Paymaster- William Murphy

 

Judge Advocate- Manny Menezes
Adjutant- William Niewola
Sgt. at Arms- Charles Metzger
Webmaster-
Chaplain- John Rebello
Quartermaster- Nolan LePage
Motion made, seconded and passed to return to regular business.   
The colors were posted, the pledge of allegiance and opening prayer.
Roll call of officers:
Present – Commandant, Sr. Vice Commandant, Jr. Vice Commandant, Adjutant, Paymaster, Sgt. at Arms, Webmaster, and Quartermaster.
Absent – Chaplain
Motion made, seconded and passed to accept the February minutes.
Correspondence:
Thank you from Captain John Kalouaros for the packages he received.
Thank you letter from Kathleen Gunner for the support and participation in Wreaths Across America.

 

Thank you from Lara Dietz founder of Iwo Jima West along with a picture of what the monument will look like.
Thank you note from Brigid Mangan for the packages.
Motion made, seconded and passed to accept correspondence as read.
Officers report:
Jr. Vice Commandant;
Frank suggests using the words motivation and effort were trying to sign new members.
We have added more books and dvds to our library.

 

When talking to potential members ask them if they would like to support Somerset Marine Corps detachment and explain what we do in the community and that although we would like them to attend meetings it is not mandatory only they try to become involved some activities when possible.

 
Commandants report:
The first fund raiser for the Vietnam Wall was held on March 11 and was well represented by the detachment with 18 to 20 members and spouses. There are envelopes on the back desk if you know of anyone who would like to donate.
Volunteers needed for a couple of projects. Wash and wax the van and annual sprucing up of the headquarters grounds. We will assist the Girl Scouts who will cleaning the grounds to earn badges.
We received an extremely generous donation from the Somerset Insurance Underwriters. Thank you, ladies and gentlemen.

 

A big thank you and Semper Fi to our own paymaster Bill Murphy for the excellent job he is doing not only from us but the State as well.

 

Or annual fund raiser at the Stop&Shop and Auclair`s is rapidly approaching so don`t forget to sign up. If everyone signs we should only have to do two hours each.
Motion made, seconded and passed to accept officer`s reports.
New business;
We have received 3 bids from landscapers to do work in the front of the building. A motion was made, seconded and passed to accept the lowest bid of $1,700.00.
The L/Cpl. Matthew Rodriquez Foundation is sponsoring a girls' softball tournament and asked if we would donate. Bruce is still waiting for additional information before the body can discuss it. 
Our sister Jennifer has filled out 3 grant forms. Bruce and Lynn have also filled one out. The grants will be used for repairs around our headquarters. They would be from Home Depot, Hathaway Memorial Trust, the Rotary Club and the United Way. If we were to get all 4 it would be outstanding.
We will be putting packages together MondayMarch 16th at 10:00 hours.
As I am unable to do the Memorial Day ceremony anyone who would like to take it over let me know.
 Sickbay report;
Jim "Mighty Mouse" Miraglia is recovering from knee surgery.
Norm Lavallee is finally home after 3 months in a nursing home. I would like to gets some members together and visit him. We bring some refreshments.
Motion made, seconded and passed to adjourn the meeting 10:50 hours. 
                                                               Respectfully submitted 
                                                               William F. Niewola Jr.     
                                                                Detachment Adjutant